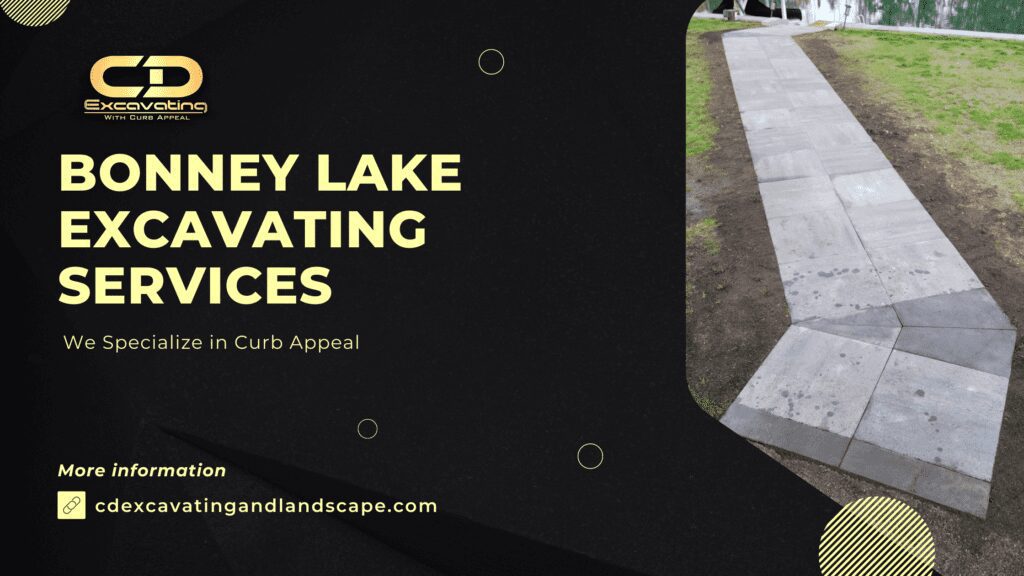 For a property with curb appeal, brilliant appearance and professional outdoor looking spaces, CD Excavating is Bonney Lake's #1 preferred excavating contractor.
Not all excavating services are alike. Some Northwestern Washington excavating services specialize in landscaping, but only do land clearing, grading, or just dig a hole. CD Excavating & Landscaping in Bonney Lake provides major excavating and landscaping services, and also specializes in professional and precision curbing.
If you are searching for a professional excavation and landscaping contractor in Bonney Lake, you need to call CD Excavating & Landscape. (253) 921-3952
We Specialize in Curb Appeal
Courtney Duty, owner of CD Excavating & Landscape, specializes in turning the curb appeal of your property into an impression that lasts. Whether you're looking for retaining walls, patios and walkways, water features, curbing or backfill, CD Excavating & Landscape can turn your driveway into a grand entrance.
You may be wondering why you need curb appeal. You don't really need all that stuff, do you? Yes. Your house requires curb appeal for several reasons. One important reason for your house to have proper curb appeal is because it instantly increases the value of your property. See a recent article about why you need curb appeal from fortunebuilders.com.
If you sell your house in Pierce County (or anywhere for that matter), your house must look appealing to buyers. Not only does curb appeal and appropriate landscaping create an alluring charm, but it also gives the buyer the sense that no work is necessary on their end. No one wants a brand new house with a landscaping to-do list. When buyers see a well-designed property, their emotional connection to what they see triggers them to make an offer.
Curb appeal represents your entire home, especially at first glance. The outside of your property also represents you and how much you care about your home. When you buy a house, you are part of the community. Your responsibility is to keep your property clean, neat, and organized. If anything at all, you deserve to come home to a house that makes you feel good. If you live in a great house with piles of dirt, old-growth trees, and messy, overgrown blackberry bushes growing into the street, that makes you look bad. It's the homeowner's responsibility to keep the property safe for neighbors and family.
Safety is a huge issue when the exterior of your home is not maintained. You may need retaining walls to direct rainwater away from the house or a neighbors property. Retaining walls also brings a sense of security and privacy. You may need a walkway, pavers, and side-walks to allow guests in your house safely.
Everything on the outside of your property needs maintenance and design for function and appearance. The only way to achieve your outside landscaping and curb appeal goals is by hiring a professional excavating and landscaping contractor such as CD Excavating & Landscape.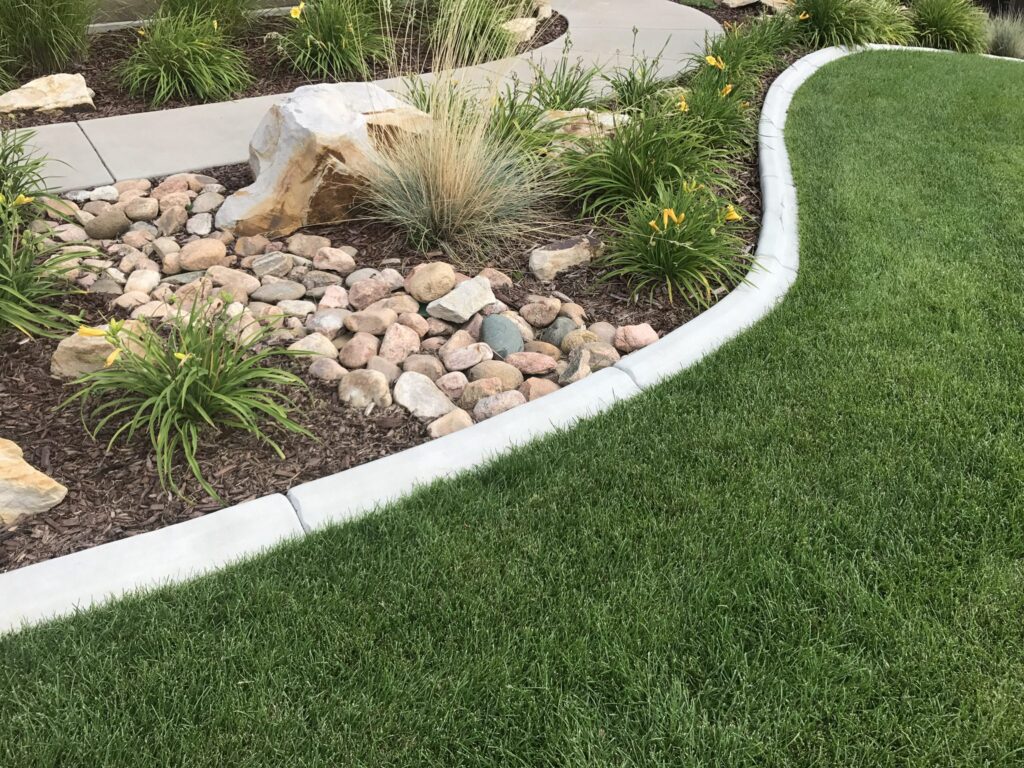 CD Excavating & Landscape is Bonney Lake's #1 preferred landscaping contractor specializing in curb appeal.
The difference with CD Excavating & Landscape is the owner, designer and professional landscaping contractor, Courtney Duty. Courtney is a master at affordably creating curb appeal that corresponds to the homeowner's needs and vision!
Every project is customized, refined, and designed to give you a look, feel, and usability you desire for your outdoor living space. You will have guidance in areas that you couldn't imagine. Courtney talks with you about the specifications you need and want, plus he'll offer solutions that will satisfy problems while modifying a beautiful outer atmosphere.
When you choose CD Excavating & Landscape, you'll receive high quality landscaping and excavations services at an affordable price. Even with smaller budgets, CD Excavating works with you to get the job finished with results you will love.
Excavating & Landscaping Services for Bonney Lake Residents
CD Excavating & Landscaping provides several services to help you upgrade your property. Please see our service page for more information.
Pavers, Patios, and Walkways
CD Excavating & Landscape specializes in the maintenance and installation of pavers for driveways, pool decks, patios, walkways and outdoor kitchens. We install pavers that are designed to fit your vision of an aesthetically pleasing space.
CD Excavating & Landscape has experience in retaining wall construction and design. Retaining walls create space in your yard by supporting the earth and providing excellent ground support. They convey a flourishing look while providing an extra area for gardening. You can have a beautiful flowing wall that supports, separates, and naturally fits into your landscaping with a distinctive design.
Edging your property, whether it be with flat stones or concrete curbing, is an essential part of keeping your lawn looking its best. Edging also protects gardens and driveways from rainwater runoff that will damage and deteriorate your driveway and lawn over time.
Our decorative landscape edging comes in a variety of colors and shapes. We can help you decide which border works best for your vision and budget.
Water features are an excellent way to enhance your yard and garden with a sense of serenity and charm. There are several fountains and pond designs to choose from that create a tranquil ambience in your outdoor space. If you have an idea for a water feature that you'd like to discuss, please let us know, and we'll assist you in creating a design that's ideally suited for your landscape.
Landscaping & Excavation Services in Bonney Lake, WA
Paving and driveway installation
For the best driveway installation services, CD Excavating & Landscape in Bonney Lake gives you superior quality that lasts.
Take the hassle out of doing your own landscaping by hiring CD Excavating & Landscape for a professional look without breaking the bank.
Land clearing services include removing overgrown blackberry bushes, dead trees, stumps, rocks, and anything that impedes the functionality of your land. Before you consider any land project, it's a crucial first step before grading and preparation.
Land Grading and site preparation
When your property is full of uneven areas, you may want to consider land grading services. Land grading smooths out the land from rocky and hilly terrain so it's suitable for gardening beds, driveway installation, or complete leveling for construction projects.
Trenching creates access points for underground utility lines and allows for the installation of sewer pipes, electrical conduits, or any other underground facilities that maintain the property's utility services. CD Excavating & Landscape is skilled with the construction of drainage and side sewer systems.
When the dirt has been removed from the construction site, CD Excavating & Landscape refills the area with new earth. We use heavy equipment to do this task and we do it according to the specifications of each project. Once we have filled in the area, we prepare it for the next phase of excavation.
Snow and tree removal is a service not provided by all excavation companies. We are available to help you get rid of dangerous snow and unsightly dead or falling trees. Let us know what you need and we'll take care of it.
Please see our latest customer review!
"Courtney did great. He and his helper showed up on time the first day ready to work and got quite a lot accomplished. At the end of the day, he and helper Cliff did great, preparing the yard and doing everything we asked without any attitude. I sell home improvements and I make a lot of promises that our guys have to keep. It isn't easy. Courtney was spot on. He was on the job most of the time, only leaving to do dump runs, but leaving instructions for his help while gone." ~ Leonard K.
As you can see, CD Excavating & Landscape does much more than the average Bonney Lake landscaper. Feel free to contact us anytime. (253) 921-3952.
We can't wait to start your project!